5/21/19
MADE FOR YOUR RIDE | KAOS SEAGRAVE
Durability, versatility or mobility? Kaos Seagrave spends as much time building trails in the Welsh countryside as he does shredding them. For digging and riding, he mixed the Ranger and Defend gear to give him the protection and style he needs. Add in the versatility of the all-new Dropframe Helmet, and you have a kit made for his ride. Like Kaos, you can use our kit builder to create your own custom look.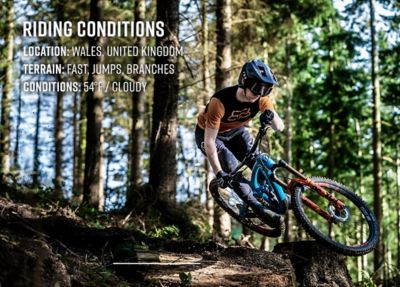 "Looking good is always a big part of my riding, and this kit gives me the chance to look good and feel comfortable when I'm out shredding"
-Kaos Seagrave – Pro Downhill Athlete
To create a kit of your own, use our MTB kit builder tool. With three benefit-driven mountain bike collections, the kit you imagine can be as diverse as the terrain you ride in.
4/29/19
Loic Bruni & Tahnée Seagrave Win at Maribor
The Fox MTB team got off to a great start in the UCI Downhill World Cup Season Opener in Maribor, Slovenia. The sun broke out Sunday Morning and started to dry the track after Saturday's downpour during quail's. The track suffered from mixed conditions which caught out more than a few elite riders during the race. Runs during the morning practice session were crucial to make final tire choice and other preparations. While the day resulted in ups and downs for the Fox DH team, the overall result was a great start to the season with victories for both Loic and Tahnée in their first time riding Maribor!
Loic Bruni - First place Mens Elite DH:
Loic started his 2019 the same way he ended 2018 - on the top step of the podium. Winning back to back races for the first time in his career was a much better start to the season than last year when he crashed in Losinj: "Compared to last year it's a big improvement. I was a little bit looking for redemption.. I was not so confident and I didn't know if it would be enough for winning. I did my best and attacked a lot. I did not look so loose but in my head I was super loose and I was on the limit and I'm happy I rode like that because I think that was the only way to do it and the times were so close and you had to push… coming into the bottom I was aware that my run was pretty solid and I thought 'OK now it's time to keep it steady and not crash' and I didn't and I'm happy no one was close enough to win at the bottom. Solid first race with the new bike, let's hope it's the start of a good year!" The defending World Champ heads to next month's race in Fort William with both the Rainbow Stripes and the WC leaders vest for the first time in his career!
Tahnée Seagrave - First place Womens Elite DH:
Tahnée spent nearly two weeks in Maribor in preparations for the World Cup opener and though things were up and down during that time, the practice paid off on race day as she blitzed the course and ended up with the victory: "I felt like I was behind, I'm not gonna lie so I had some work to do but I love the chase and I pulled it out on top at the end which I'm really happy with. It took a lot of hard work so I'm pretty stoked to start the season off with a win!" A training injury in December curtailed her early season training but she worked hard in the months and weeks leading up to the race and it showed in her confidence during her run: "I knew it was a good run, I knew where I needed to get the work done so when I came in and I did it how I want to I kinda knew it was a good run." Tahnée also heads to her home race in June with the World Cup leaders' vest for the first time. No doubt her home fans will be going crazy in Ft. Bill!
Laurie Greenland – Ninth place Men's Elite DH
Laurie G rode a fast and calculated race to gather ninth place at the finish. Laurie has been steadily progressing the last two season and staring the season with a top ten finish is another great step in his progression as and Elite rider. He was obviously happy with such a great performance to start the season: "I'm stoked because I gave it my all today! Good tight Racing! P9 to round up the weekend and 8th in points!" Laurie heads to his home race in the UK next month with confidence and momentum from his great run in Maribor!
Finn Iles – 52nd place Men's Elite DH
Finn had a great weekend going in Maribor and was pushing massive speed in the first segment of the race. He was in the lead by a fraction of a second but a tiny mistake on an off camber root section proved disastrous as his front wheel washed out, effectively ending his shot at the podium. He rebounded quickly and finished the race with blistering times on the lower segments. His crash meant a 52nd place was disappointment but his comments post race show he is in the right place in his head to overcome this challenge: "This weekend we had a really good process, the race run didn't go how we wanted it to but I think the process just needs to stay the same and I just need to stay a little bit more focused on what I'm doing when I'm racing and just tone it down a little bit. The speed is there and the focus is there, I think I need to go slow to go fast. It's all a learning process because I'm still nineteen. I just need to be a bit slower and have a few good results and get my confidence and be good in the overall, then I can really push it because as much as I want to win, I need to have good results to back it up. I just need to continue on and it will work out, seven more chances." Finn and the Specialized Gravity team head to chance number two in Fort William next month.
Loris Vergier – 58th place Men's Elite DH
Much like Finn, a great start to the weekend took a tough turn for the worse for Fox and Santa Cruz Syndicate rider Loris on Sunday. A solid fifth position in qualifying had him confident for race day and his run started well as he was only six tenths of a second of the lead heading into the third timed segment. Things went sideways quickly both literally and figuratively as he washed his back tire and clipped a tree. The spectacular crash was scary to watch but thanks in part to his new RPC helmet he popped up quickly and finished the course, even setting some of the fastest times on the lower segments: "It was the first race of the season so it's always a tricky one. I felt good, no pressure on, I was just trying to ride well and I ended up doing a mistake on the corner that I should have not approached as fast, it's my mistake but it happens. The new helmet works good, I crashed hard and I feel like I have nothing wrong pretty much and the MVRS (Magnetic Visor Release System) is good. Let's focus on the rest of the season!" His 58th place finish means he'll need to do some work over the next couple of races to get back into contention for the overall title, but with his speed and confidence he'll be back competing for a podium quickly.
After a fantastic start to the season in Maribor, the Fox MTB DH team has a some time to rest and recover before training starts again for UCI Downhill World Cup race number two in legendary Fort William, UK. One of the most iconic races in the history of Downhill, Fort Bill is a coveted race, a win there can make a riders year or even their career. Watch as these athletes compete during the rest of the season in the all new Rampage Pro Carbon and Defend and Flexair gear which was made for their ride! Check the full Fox MTB one at www.foxracingcom/mtb.