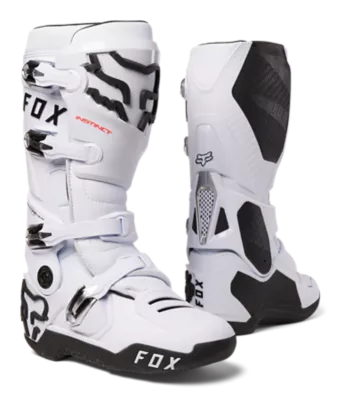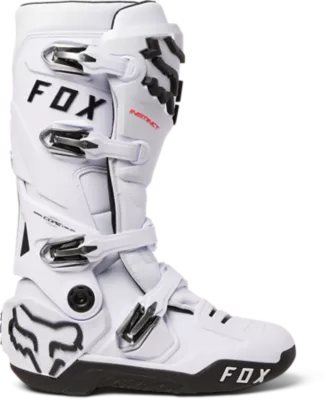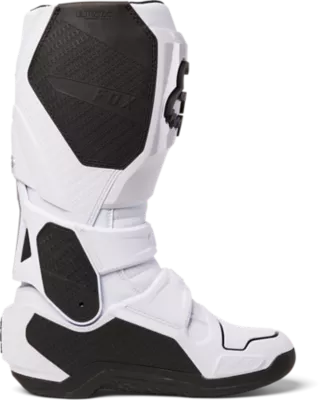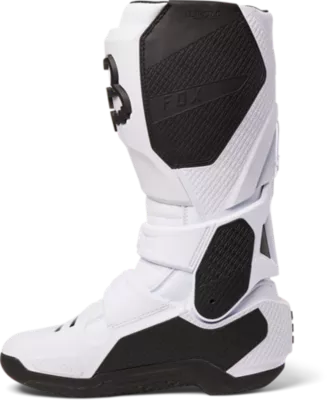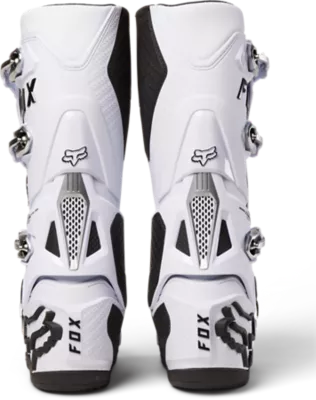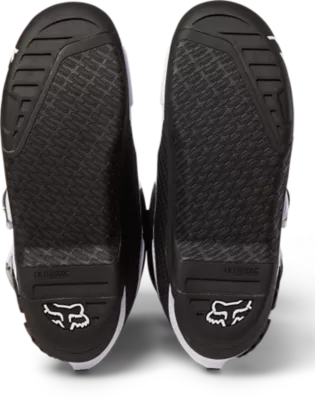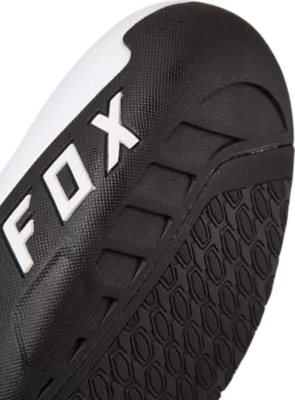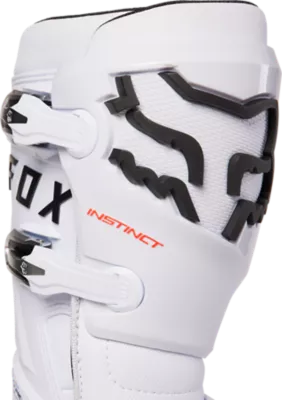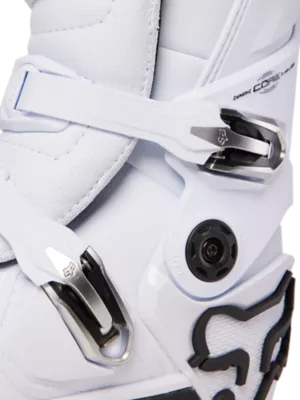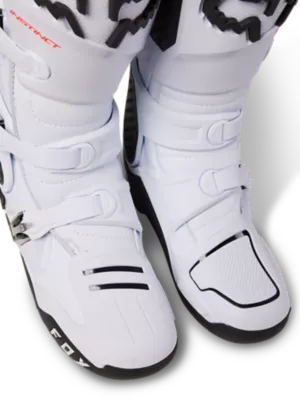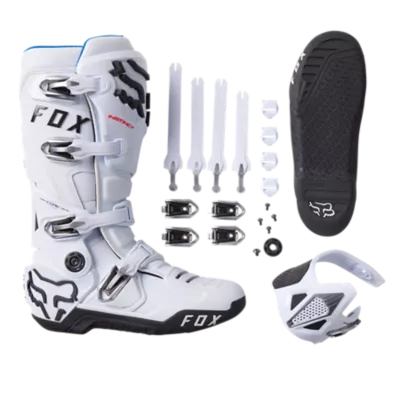 Artikelnummer
24347-008-8
Sizes are indicated in US.
Consult the size chart to find EU equivalents.
Thank you, we will email you when the item is in stock.
GIFT: 1 Fox sticker with your order
De vernieuwde Instinct-laarzen kregen een nieuwe en verbeterde leest en zijn goed voor topprestaties vanaf het moment dat je ze uit de doos haalt. Verder hebben deze professionele crosslaarzen een nieuw en gepatenteerd sluitsysteem waarmee ze heerlijk stevig zitten, overal mooi aansluiten en vanaf het eerste moment comfortabel dragen. Bovendien voorkomt het gepatenteerde scharniersysteem dat je je voet in deze laars overstrekt. De slanke wreef van deze toplaars geeft je intuïtief veel gevoel voor de motor. Het bovenmateriaal wordt gemaakt van synthetisch microvezelleer, voor comfort, pasvorm, souplesse en degelijkheid van superieur niveau. Ons exclusieve Ultratac™-rubbermengsel is oerdegelijk en geeft de buitenzool en de hittebeschermers ongeëvenaarde stroefheid. Het 'low ride' chassis houdt de voet lager en dichter bij de voetrust, zodat je met meer gevoel remt en schakelt. Scheenbeen, tenen, hiel en kuit zijn voorzien van thermoplastisch polyurethaan (TPU) voor maximale bescherming op de plaatsen waar je die het meest nodig hebt. Voor nog meer bescherming en stevigheid is de laars op de enkel voorzien van nylon/fiberglas composietmateriaal. De binnenzoolplaat heeft een schokdempende tussenzool en hiel, vangt klappen op en biedt stabiliteit en ondersteuning op de voetrust. De Instinct-laarzen zijn voorzien van comfortabel ademend en antibacterieel meshmateriaal met Microban, dat onaangename geurtjes tegengaat, elke rit opnieuw. En om het verhaal compleet te maken, heeft deze laars een slanke teen waarmee je prettig schakelt en voor de rest ook mooie bescheiden vormen.
De Instinct-laars draagt comfortabel vanaf het eerste moment en zit fantastisch dankzij een nieuwe en verbeterde leest
Bovenmateriaal van synthetisch microvezelleer voor comfort, pasvorm, souplesse en degelijkheid van superieur niveau
Bescherming van thermoplastisch polyurethaan (TPU) op scheen- en kuitbeen, hiel en tenen
Slanke wreef voor veel contact met de motor en Ultratac™ hittebescherming voor uitzonderlijk veel grip
Slanke teen voor soepel schakelen en voor de rest ook mooie bescheiden lijnen
Binnenin voorzien van comfortabel ventilerend meshmateriaal met antibacterieel Microban voor minder geurtjes
Stevige enkelbescherming met composietmateriaal van nylon/fiberglas
Gepatenteerde scharnierblokkering voorkomt overstrekken van de voet
Zit stevig en sluit overal mooi aan dankzij nieuw en gepatenteerd sluitsysteem
Oerdegelijk exclusief Ultratac™-rubbermengsel van Fox voor ongeëvenaard stroeve buitenzool en hittebeschermers
Low ride chassis met lagere voetstand dichter bij de voetrust voor meer gevoel bij remmen en schakelen
Gepatenteerde composiet binnenzoolplaat van nylon/fiberglas met schokdempende tussenzool en hiel voor bescherming, stabiliteit en ondersteuning op de voetrust
Rubber buitenzool of binnenzool los verkrijgbaar
Boots have a standard fit that's true to size, take your normal shoe size
Half sizes available in 9.5, 10.5, 11.5
Sizing is uniform across all models: Instinct, Motion, Motion X, Comp, and Comp X
Zero break-in required thanks to our patented hinge system
Resoleable outsole to maintain peak performance
Details on resole program coming soon
Fully serviceable with Fox Racing parts
3 Levels of Performance
Instinct

Pro-level motocross boots.

Best-in-class grip, mobility, and protection.

539.99€

Instinct

Motion

Performance motocross boots.

The perfect blend of grip and durability

Starting at 399.99€

Motion Motion Offroad

Comp

Essential motocross boots.

Maximum durability and essential features

Starting at 279.99€

Comp Comp Offroad

Details
Details
Details

ULTRATAC

Proprietary grip compound provides the highest level of grip

DURATAC

Proprietary grip compound provides perfect blend of grip and durability

POSITAC

Proprietary grip compound for maximum durability

Range & Half Sizes

Size range, 8-14. Half sizes 9.5, 10.5, 11.5

Range & Half Sizes

Size range, 5-14. Half sizes 9.5, 10.5, 11.5

Range & Half Sizes

Size range, 8-14. Half sizes 9.5, 10.5, 11.5

Forged Metal Buckles

New patented 4-buckle system provides a durable, secure closure and perfect fit

Forged Metal Buckles

New patented 4-buckle system provides a durable, secure closure and perfect fit

Composite Buckles

New patented 4-buckle system provides a durable, secure closure and perfect fit

Resoleable Outsole

Resoleable rubber outsole for a longer lasting boot even after wear and tear

Resoleable Outsole

Resoleable rubber outsole for a longer lasting boot even after wear and tear

Resoleable Outsole

Resoleable rubber outsole for a longer lasting boot even after wear and tear

Hinge Lockout

Hinge lockout stops motion before hyperextension, supports forward and back movement, and gives lateral support around the ankle

Hinge Lockout

Hinge lockout stops motion before hyperextension, supports forward and back movement, and gives lateral support around the ankle

_

Microban Liner

Air mesh treated Microban liner for antimicrobial and odor control solutions

Microban Liner

Air mesh treated Microban liner for antimicrobial and odor control solutions

Breathable Liner

Air mesh liner for breathabilitys

Insole

Composite nylon-fiberglass insole board with anti-shock midsole and heel pad provides impact resistance, stability and support on the foot peg

Insole

Composite nylon-fiberglass insole board with anti-shock pad at the heel supplies impact resistance, stability, and support on the pegs

Insole

Fiberglass/nylon composite insole board

_

Offroad Variation

Waterproof membrane to help keep water out. Enhanced traction on the outsole provides added grip in variable off-road conditions

Offroad Variation

Enhanced traction on the outsole provides added grip in variable off-road conditions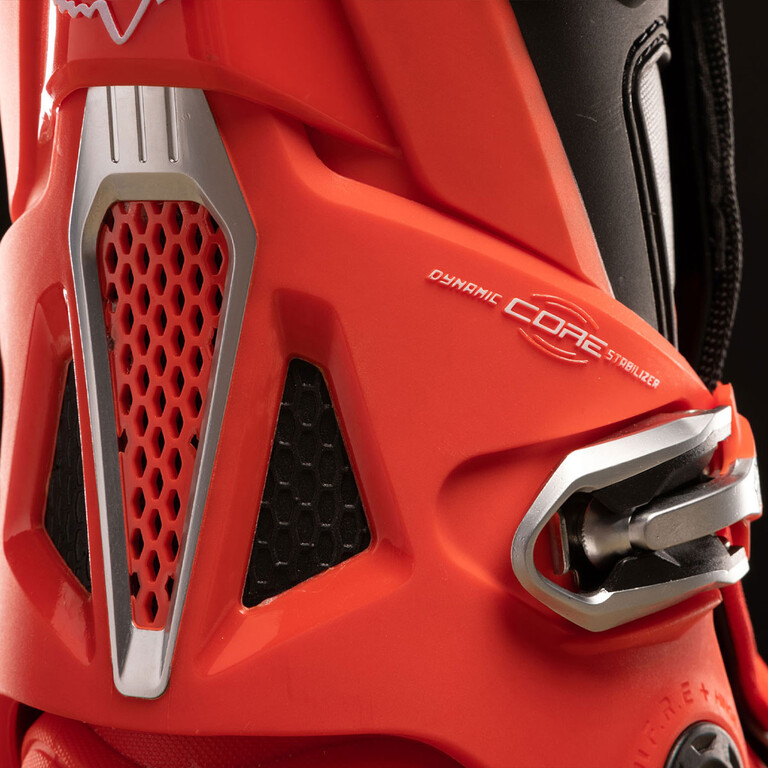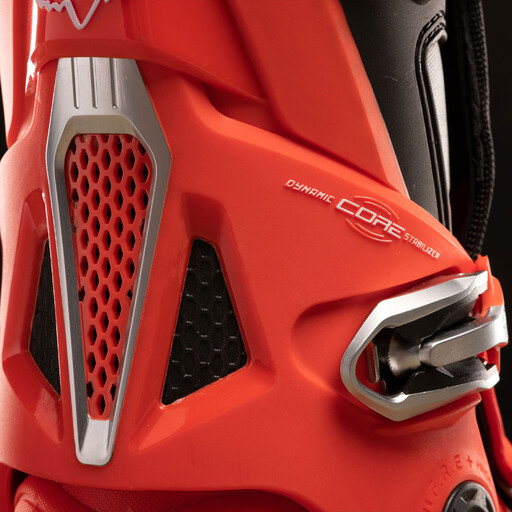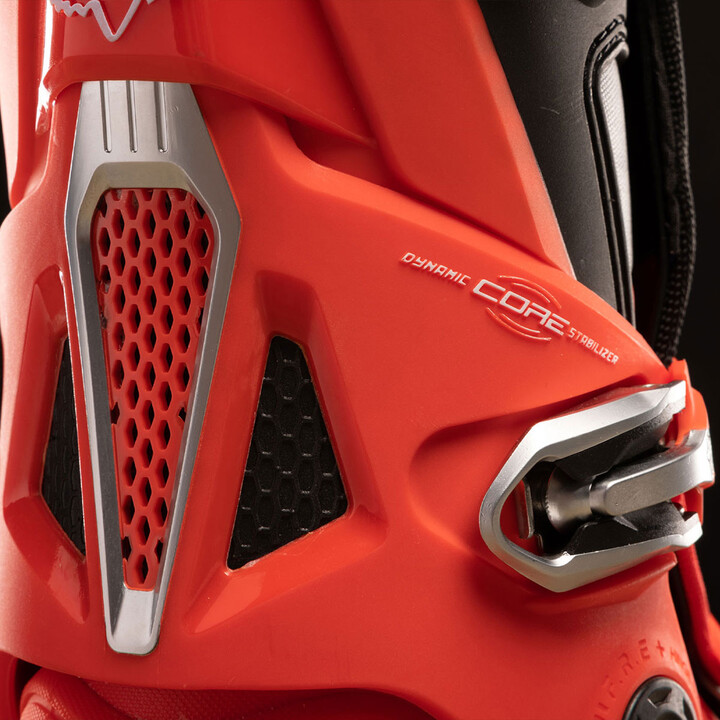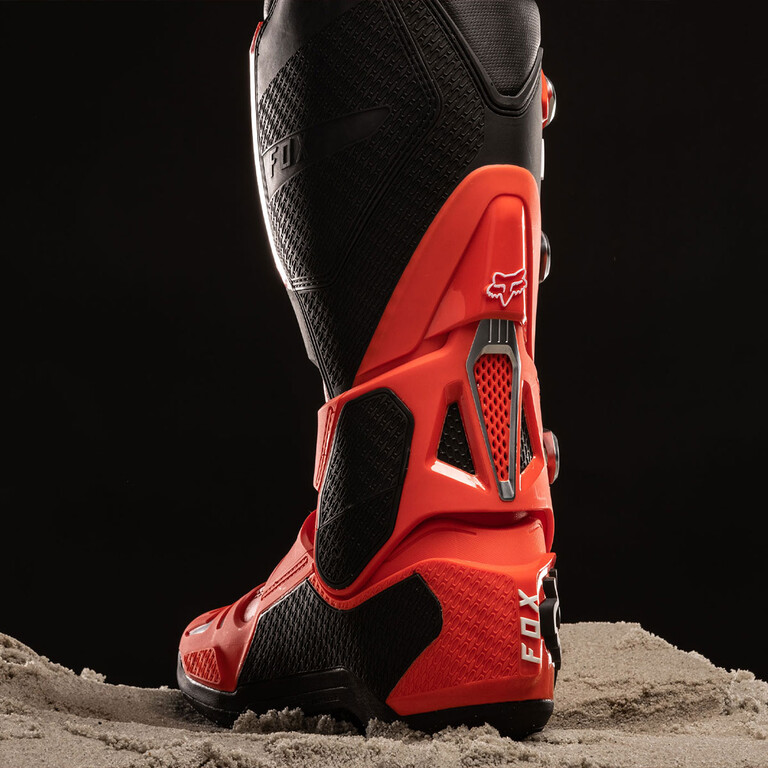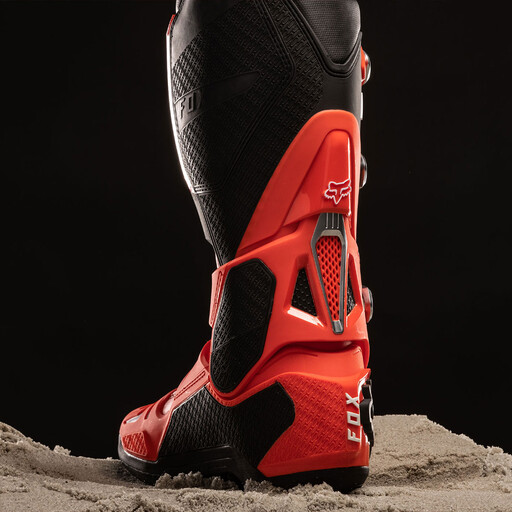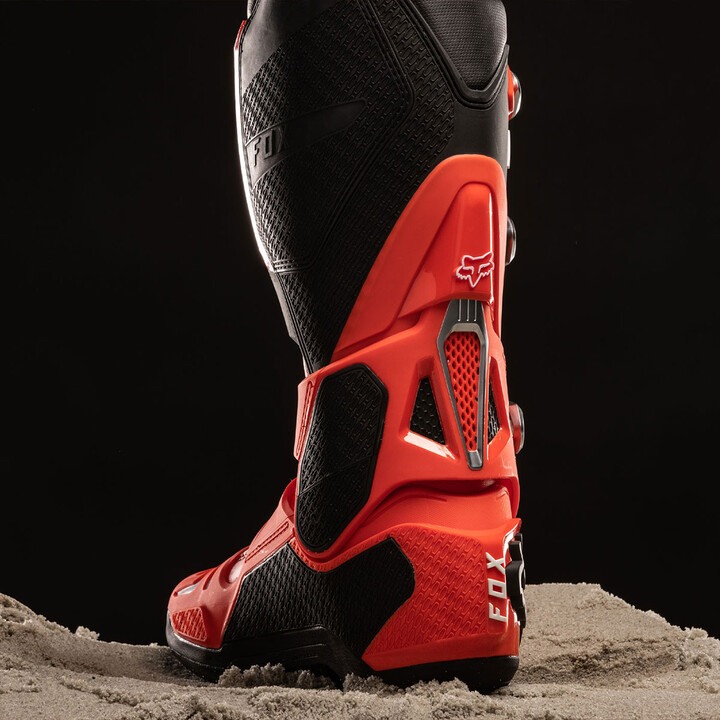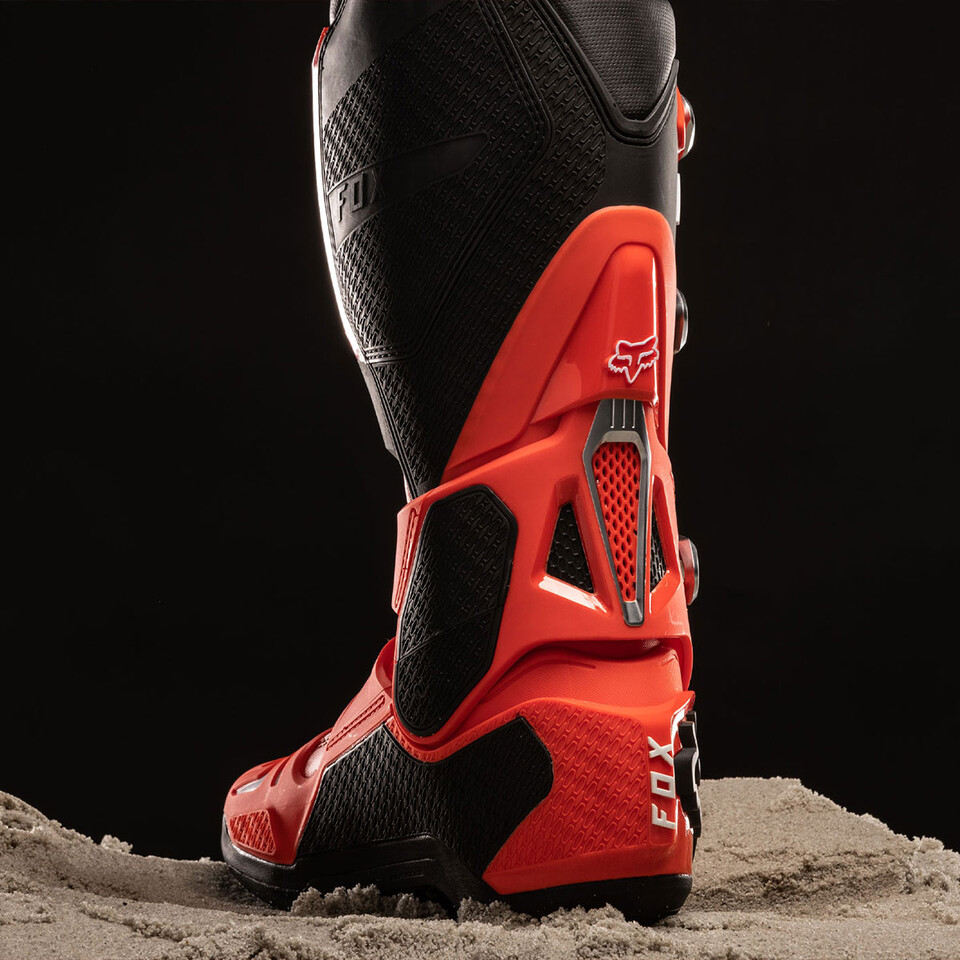 Size Guide
| Size (US) | US (Womens) | US (Youth) | EU Size | UK Size | Japan / CM Size |
| --- | --- | --- | --- | --- | --- |
| 5 | 6.5 | Y5 | 38 | 4 | 22.5 |
| 6 | 7.5 | Y6 | 39 | 5 | 23.5 |
| 7 | 8.5 | Y7 | 40 | 6 | 24.4 |
| 8 | 9.5 | Y8 | 41 | 7 | 25.2 |
| 9 | 10.5 | – | 42.5 | 8 | 26 |
| 9.5 | 11 | – | 43 | 8.5 | 26.5 |
| 10 | 11.5 | – | 44 | 9 | 26.8 |
| 10.5 | 12 | – | 44.5 | 9.5 | 27.3 |
| 11 | 12.5 | – | 45 | 10 | 27.8 |
| 11.5 | 13 | – | 46 | 10.5 | 28.3 |
| 12 | 13.5 | – | 46.5 | 11 | 28.6 |
| 13 | 14.5 | – | 48 | 12 | 29.4 |
| 14 | 15.5 | – | 49 | 13 | 30.2 |