Tim Gajser
2019 MX GP World Champion
Tim Gajser est un pilote Slovène. Il court dans le championnat MXGP pour Gariboldi Honda Motocross Racing team, Giacomo Gariboldi étant le manager de l'équipe. Tim est né le 8 Septembre 1996 à Ptuj en Slovénie. Son père Bogomir était également un pilote de motocross et a fait découvrir ce sport à Tim étant très jeune. Il est encore aujourd'hui son entraineur personnel. Gajser avait un frère, Nejc ; et deux petites soeurs Alja et Neja. En 1995, sa famille a vécu un tragique accident lorsque son petit frère de 3 ans Zan fut tué dans un accident. Lors d'une course, le jeune garcon se trouvait sur le terrain, a la réception d'un saut où son père n'a pu l'éviter. Tim roule avec le numéro 243 rendant hommage à son frère décédé né le 24 Mars. Le 29 Juillet 2016, Tim s'engage avec Monster Energy Drinks
Plus d'informations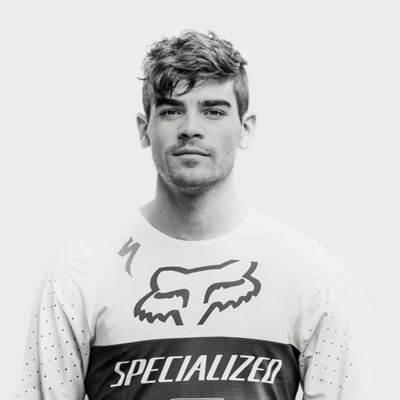 Loïc Bruni
CHAMPION DU MONDE
Loïc est né dans le sud de la France, sur la Côte d'Azur. Il a attrapé le virus du VTT via son père, Jean Pierre, multiple champion du monde master de descente VTT et ancien enduriste moto de très bon niveau. Ses parents et sa grande sœur sont ses plus fervent supporters et sa plus grande source d'énergie. Toujours souriant, facile sur le vélo, Loïc a enchainé des courses de Cross-Country, Downhill et Trial. En s'entrainant sur les pistes locales de Peille ou du Cap d'Ail, Loïc a signé son premier contrat pro étant encore Junior. Il rejoint Sam Blenkinsop -son idole- et commence à améliorer sa vitesse et son approche de la course. Préparation physique, alimentation, mise au point du matériel avec son technicien et ami Jack Roure, Loïc atteint le podium Elite au cours de sa 2ème année Junior, à Windham (USA). Il remporte les championnats du monde à Vallnord en 2015 et sa première épreuve de coupe du monde en 2016 à Cairns (Australie).
Plus d'informations
NEWS
Roczen Wins St. Louis 450SX | 20-01-12
It was an emotional night for Ken Roczen in St. Louis as he finally achieved what he's been working so hard for since his injuries in early 2017 - a 450 Supercross main event win. It had been 1,092 days since Roczen's last victory, a time which included two nearly career-ending injuries and arguably some of the darkest days in his life. Following this arm injury in January of 2017, Roczen's doctors originally told him that he may not be able to hold a fork again, much less race a motorcycle at the top level again. He faced, even more, trying times in 2019 with another arm injury, but never wavered in his plan to get back on top - and he's finally done it!
St. Louis Supercross Qualifying
Things got off to a smooth start Saturday morning with Missouri native Pro Circuit Kawasaki's Austin Forkner clocking the 3rd fastest time in the 250 Division. He was closely followed by GEICO Honda's Christian Craig & Jett Lawrence in 4th & 5th place, respectively. Unfortunately, Forkner's Pro Circuit Kawasaki stablemate Cameron McAdoo took a hard crash in qualifying that left him with a small puncture in his lung and forcing him to sit out the night.
In 450 qualifying, it was the rookie Adam Cianciarulo that topped the boards yet again on his factory Kawasaki ride. After a 2nd place finish in his 450 debut in Anaheim, AC looked determined to keep himself at the front of the pack. Ken Roczen made the trip out to St. Louis a day early and rode press day on Friday - and the German was feeling the flow while clocking the 4th fastest overall time.
When it came time for opening ceremonies in St. Louis - the local fans got the opportunity to bid their goodbyes to Chad Reed as an active 450 Supercross racer. The Australian legend was greeted with roaring cheers, and Chad took in the moment as he circled the Dome at America's Center one last time.
St. Louis Supercross Heat Races
In the 250 Heat races, it was all FOX & SHIFT as GEICO Honda's Christian Craig took the win in 250 Heat #1, and local boy Austin Forkner brought home the win in 250 Heat #2. It was shaping up for an epic battle in the 250 Class!
In 450 Heat #1, it was the Ken Roczen show. He quickly moved past Vince Friese after the opening lap and gapped the field by over 5 seconds to take a commanding win in the 8-lap qualifier. Adam Cianciarulo was up next in 450 Heat #2 and wanted to match the performance of his training partner Roczen. AC had to wait until the halfway point before he could move past race leader Zach Osborne, but nonetheless, he was able to bring home the win as well.
St. Louis Supercross Main Event
In the 250 Main Event, Austin Forkner got off to a great start and grabbed an early lead in front of his home state crowd. In the opening laps, he was closely contested by GEICO Honda prodigy Jett Lawrence, although the young Australian would never get quite close enough to make a move. Forkner led every lap to bring home the wire to wire victory. It has been a bit of tough road for Forkner after injuring his ACL last year while leading the 250 SX East Championship, but the 21-year-old is back to his winning ways!
In the 450 Main Event showdown, Ken Roczen stalked race leader Zach Osborne from the opening lap before quickly moving past him and into 1st. Roczen was clearly on a mission and started to put in extremely consistent lap times and slowly increased his lead lap by lap. As Roczen built his lead, Adam Cianciarulo bounced around in the top-5 and would eventually end up finishing in 7th after a small crash in the closing laps. Roczen, however, was untouchable and ran away with the win in a storybook finish.
For raceday Moto coverage, follow Fox Racing on Instagram @foxmoto
250 SX West Round 2 Results - St. Louis
Austin Forkner
Justin Cooper
Brandon Hartranft
Alex Martin
Jett Lawrence
Jacob Hayes
Luke Clout
Mitchell Oldenburg
Carson Brown
Derek Drake
250 SX West Season Point Standings
Justin Cooper - 49 Points
Austin Forkner - 44 Points
Brandon Hartranft - 37 Points
Dylan Ferrandis - 34 Points
Alex Martin - 32 Points
Jett Lawrence - 32 Points
Jacob Hayes - 29 Points
Derek Drake - 28 Points
Christian Craig - 22 Points
Michael Mosiman - 22 Points
450 SX Round 2 Results - St. Louis
Ken Roczen
Justin Barcia
Jason Anderson
Eli Tomac
Zach Osborne
Malcom Stewart
Adam Cianciarulo
Justin Brayton
Blake Baggett
Aaron Plessinger
450 SX Season Points Standings
Justin Barcia - 49 Points
Ken Roczen - 43 Points
Adam Cianciarulo - 39 Points
Jason Anderson - 39 Points
Eli Tomac - 35 Points
Blake Baggett - 33 Points
Cooper Webb - 32 Points
Malcolm Stewart - 31 Points
Justin Brayton - 30 Points
Zach Osborne - 27 Points
Plus d'informations
Fox Womens B-Line Ride Night | 20-01-07
The winter months can be discouraging and gloomy, but thankfully in Calgary, Alberta when the temperatures drop below freezing, the bike community has the B-Line Indoor Bike Park to seek refuge. Among the park traffic is an emerging group of ambitious and inspired women riders looking to share the ride with like-minded females to progress themselves socially and physically.
Every Tuesday of the month, B-Line Indoor bike park reserves designated areas of the facility for the women allowing them priority on features while riding amongst the seasoned male riders, helping integrate the females and build confidence as a group.
On Tuesday, January 7th, Fox Womens hosted an organized Ride Night with special guest Claire Buchar as the head coach to help build some basic riding foundations with the women's group. Claire brought along local Squamish rider and Summer Gravity Camp coach, Bailey Goldstone to help make sure the group always had someone to lean on for questions.
Females of all ages and calibers participated in organized group stretching, body positioning session, fundamentals of pump track manuals and then progressed into the park's jump lines - The vibes were high, and the encouragement was higher!
Stay tuned in for upcoming Fox Womens Ride Night announcements, dates and guest coaches!
Plus d'informations
FOX RACING® BELGIQUE - SITE OFFICIEL
La marque Fox Racing a été créée en 1974 et elle se positionne depuis en tant que leader sur le plan de l'innovation dans le secteur du Motocross, en concevant des équipements et des vêtements de motocross plébiscités par les meilleurs riders au monde. Cette entreprise, dont la philosophie s'inspire de l'état d'esprit des athlètes, a également développé des activités et des lignes de produits dans les domaines du VTT et du BMX, et elle crée également des lignes de vêtements novatrices inspirées de l'univers de la moto pour homme, femme et enfant.